Fiber troubles and love...
I've been spinning for a short time now and don't spend as much time as I should practicing. I've been working on some fiber that was from Brown Sheep Co. I had two bags of it and the first bag spun up okay. It wasn't great and I had some problems with drafting. The second bag is, well...
...it's a mess. Half of it is passable but the rest is just bad. Maybe if I had more experience it would be okay but for this newbie it just ain't happening. I've decided to put it aside for now and see if experience helps.
Last night I went to
Friends of Wool
for an open spin. I have never actually spun around anyone that knows how to spin. I struggle with going to new places so I was totally nervous.
I learned a lot. Number one I learned that the fiber I had to spin was considered a top and probably not the best thing for a beginner. I worked on it for a while without much luck. When I asked about other fiber they brought out something else for me to try. This stuff spun up so easily. I was able to spin a really consistent ply and was loving this stuff.
The fiber that they gave me to try was Bluefaced Leicester. By the far the best stuff I had ever used. I didn't want to stop spinning it. I asked about buying some and was able to pick up 2 pounds of it. I'm tempted to go back and get more. Yeah, it's that nice!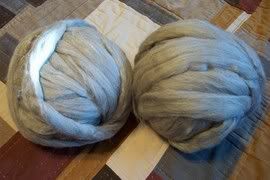 I also picked up a couple bundles of Baby Alpaca. It's soft as buttah!
I'm glad that I stepped out of my comfort zone. I learned a lot from these women and I'm going to try to go back more often. I may even take a begining spin class.