Monday, Monday... Be good to me!
I was up before 6am. Way earlier than I wanted to be up. With only 1 vehicle I drove my husband to work and I now know that this is going to be rough. I am not a morning person. I had to make my bed just so I wouldn't climb back in. I have about 10 minutes until DS #3 gets up for school. Long enough to complain (obviously).
Yesterday I finished my dishcloth that I started Saturday night. It's nice to be a finisher even when it's not the project that really needs finishing. I purchased the
Eyelet Rib Wristlets
for the
Knit Your Bit Along
and will probably just do those for today. I am trying hard to work on my current Prayer Shawl. I now know who it's for so that seems to help. There is just so much knitting and so little time.
My Aunt from Arkansas wants to learn to knit. She has bought needles and a book and has so far taught herself to cast on! It's exciting. She is a crocheter but has never knit so I wish her well (she reads my blog on occassion!) I may have to make another trip down there to help her out.
I imagine that most of you have heard of the show
Knitty Gritty
on
DIY
(Do it Yourself) Network. I really enjoy watching shows about knitting and this one is excellent. They just started a new season so there are lots of new shows. I watched one on spinning and now I'm dreaming of branching out (but alas, I am broke). Look for the
show
or check out the
website
for some free patterns. I knit
these
from the show...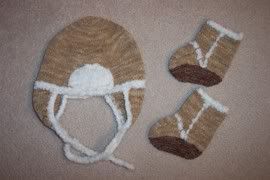 Hope everyone has a happy Monday and we can all stay warm! Knit on:)