Angels and new patterns
My youngest boys insisted I take their picture too. It seems to them I only take pictures of my knit'n. This was the view out my bedroom door... aren't they angels?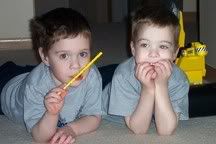 Mitchell & Joshua
This would be some patterns and books I picked up at Lizzie Ann's Wool Co. I really love Sally Melville. She just seems so down to earth, I'd like to be her friend... is that weird?