Good Intentions
I really wanted to get in some posts today with tons of pics but instead I will work. They called me because they had someone call in sick. My first response is... No. I have problems with my back and long days on my feet tend to be an issue. I said I would let them know. Anyway, long story short, I'm heading into work early:-(
As a teaser for my later posts I will leave you with some pictures of the progress I am making on socks for Joshua. He picked out the yarn and is very excited. He looked at where I was and said, "Mommy, my feet are bigger, keep going." So helpful.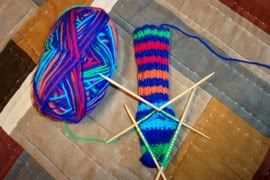 I actually have this sock done but I just don't have time to post that pic. Please check back later and I will have more. I will also post my Autism entry on going to the Dentist.
Question for all sock experts out there. Do you have to block socks and why and how? Leave a comment is you can answer or click on email in the right hand column. Thanks in advance. Have a great day!