It's been a while
I know, you've heard it all before. Busy blah, blah, blah. I remember back when I first started my blog and I would post everyday if not multiple times a day. Currently I am having trouble finding time to do it. I have lots to say but no time to say it.
So... in knitting news. I have finished the socks for Joshua that I was working on.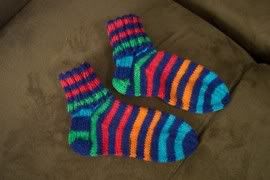 Right away Mitchell asked when I was making him a pair. Of course I couldn't say no. He picked out his own yarn from my stash and I started them right away.
I knit Joshua's on DPNs but decided to do
two circulars
instead. I can't believe how much faster it went. I started Tuesday night and finished the first one Wednesday evening. I'm past the gusset on the second sock.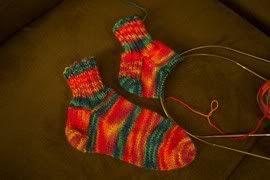 Feeling pretty good about the two circs but curious about the
magic loop
technique. I'd love to hear thoughts on preferences.