April is Autism Awareness Month - Day 15 & 16
Friday was Joshua's first Dentist appointment. Usually I don't do a lot of prep work on Joshua but with something as important as going to the dentist this journey started over a year ago.
First we would take Joshua with us when we went to the dentist so he could be in the waiting room. Later we would take him back to where we get our teeth cleaned. Little by little preparing him.
Joshua had no desire to see the dentist for most of the time that we were preparing him. The change occurred over night. At his school at Dentist came in for a visit. She talked about all the normal dentist stuff and gave them each a toothbrush, toothpaste, coloring booklet and stickers. From that day on he has asked to go to see his Dentist.
I made the appointment for as soon as I could but of course there was a wait. During the wait I didn't mention it at all. Starting Monday of this week I casually dropped the appointment into a conversation. Wednesday we talked more in depth and then on Thursday we talked about what to expect. By Friday morning he was telling me he was going to the dentist and he was really excited.
We got there a few minutes before our appointment. I usually like to arrive about 15 minutes early but I didn't want Joshua to get to involved in the toys or lose his excitement. This is a picture of him waiting.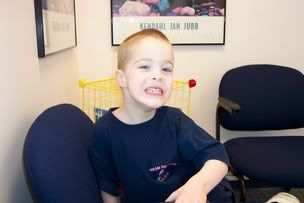 When we were called in Joshua checked out everything. He is so visual that it's hard for him to pass by sights unseen. He spied some sunglasses in the room and asked for them. This is him wearing the glasses while getting his teeth scraped.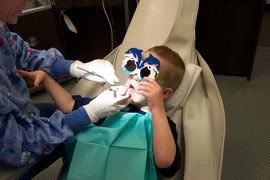 The hygentist did a great job of explaining everything before she did it and if Joshua were not autistic it would have been perfect. People tend to be too wordy and fewer word are better. For instance, when she squirted the water into his mouth and then put the suction in she would say, "okay, now close your lips around this tube." I sort of translated. I would simply say, "close mouth." Autistic kids tend to get lost in the words.
Joshua did really well with the entire experience. He handled the cleaning with no issue at all. I was worried about the vibration of the polisher but he didn't seem to mind. This is a picture of the cleaning.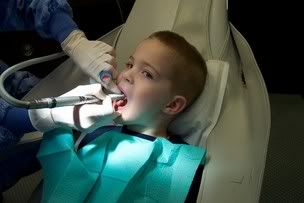 When the cleaning was done he received his new toothbrush and a sticker. This was the highlight of the visit. Now we had to wait for the dentist. This took a few minutes and Joshua's interest was fading fast.
When the Dentist came in Joshua did pretty well. I prompted him to say hi and he did. He really didn't want to sit still but did great. This isn't the greatest picture but it shows Joshua being examined by the Dentist.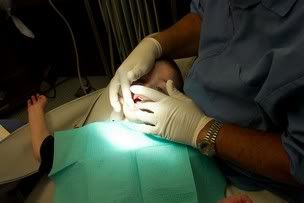 He didn't have any cavities so he won't go back for 6 months. He really did super. I was very proud of him and I believe that he was happy with the whole experience.
Mitchell has been going to the dentist for a year now. Sometimes there is no reason to rush into experiences that may cause anxiety. I'm glad we waited.
One of the deals I made with Joshua over going to this appointment was a trip to the dollar store and me posting these pictures on my blog. I don't usually make deals but wanted today to be special for him. At the dollar store he spent his own money to buy a doctor kit. He spent the rest of the day pretending to be a dentist.