Lucy Bag
I have been working on a Lucy Bag from Two Old Bags. I'm using Cascade 220 and it's slow going. Mainly I'm working on a lot of little projects in the middle of this one. It seems quite lacy and I just don't know how it will felt. I'm using the yarn that it calls for but it doesn't seem right. I think that's why I'm not working harder on it.
This is my progress so far...
This shows how lacy it looks.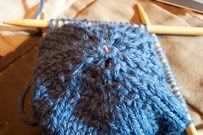 It's a pretty large project so I'm nervous to keep going at this point. I may take another skein and do a swatch to see how it felts.