My New Booga Bag
I mentioned in an earlier post that I was going to live dangerously and not do a sample swatch to check how much my yarn would felt. Well... it felts
very, very
well. It was a bulkier yarn than the pattern called for and I figured it wouldn't shrink as much since it was knit tighter. My thinking was that it would make a very dense fabric.
It started out like this...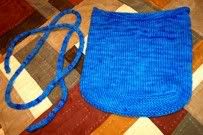 I used my new mesh bag. It worked soooooo good. I picked it up at Kmart, part of the Martha Stewart Home Collection. I never go to Kmart so this was kind of a surprise find. It is a super fine mesh that holds in all the fuzzies but lets the water pass through easily. I love this bag!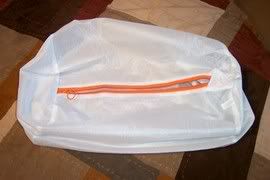 The final product. It
really
shrunk. The difference in 3 minutes was huge. It wasn't doing anything and then... BOOM! Marjorly felted. I like the fact that it is stiff enough to stay open. That'll make finding things inside easier. The yarn made all of these tiny loops on the bag. I don't know if it will show if you click on the picture but it looks wild. I usually brush the bag out with a cat brush but I'm not sure I want to get rid of the loops.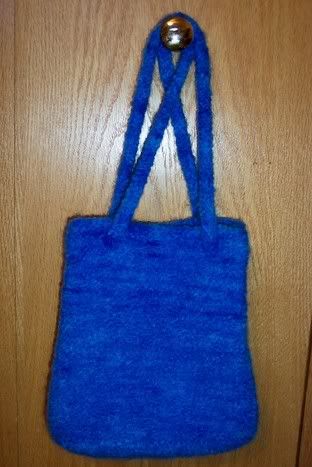 For those of you with attention to detail you might notice that I strung the handles up wrong. I couldn't figure out why it didn't seem right and then my DH pointed out my mistake. Oh well, at least I'm not completely crazy.