Now Norma Knits Hat
I found the pattern for this hat on
Now Norma Knits
. It seemed like a neat little hat. I used some acrylic yarn that I had hanging around and knit it according to her directions. It went fairly fast... size US15 circs with a double strand of worsted weight yarn. My boys must have huge heads because I couldn't fold up the brim. For the next one I do I'll cast on maybe 10 more and work for 6" longer. All in all it's a great pattern and if I had kids with normal size noggins I think it would be perfect!
This is the hat at it's full length.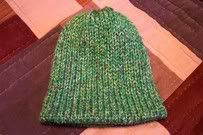 This shows the hat with the brim folded up.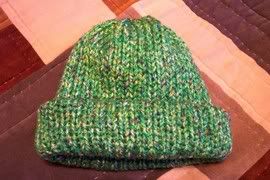 This is the ever so handsome, not usually so still,
Joshua modeling said hat. He is my little helper.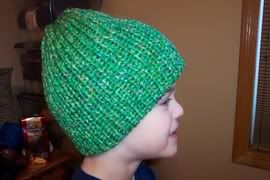 I'm going to start on a
chemo cap
next but will come back to this one soon. A special thank you to
Norma
for sharing the pattern.