Am I knitting???
Yes, I am! Thought I would do a quick post on the subject of knitting. I mean, this is, afterall a fiber blog, right? I've been working on several things in my absence and I will share one of them with you today.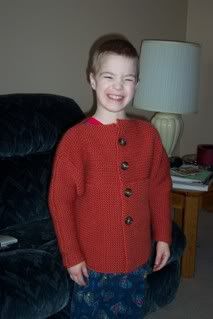 This is Joshua in his
Einstein Coat
! It's an awesome pattern from Sally Melville in her Knit Stich book. As you might have guessed, Joshua's favorite color is orange. This was knit in Brown Sheep Bulky and was super quick to knit up. My only problem was the sleeves. If I read the pattern right it makes the sleeves way too tight. Chances are I screwed up. I'm currently working on another one in green for Mitchell so I will make adjustments.