It's official... I've lost my mind
My question is, "WHAT CONSTITUTES TOO MUCH OF A FIBER ADDICTION?" I loved knitting, wanted to spin and now...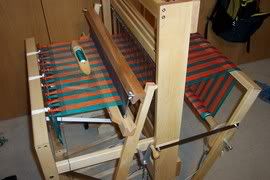 That's right, a loom. I'm still in shock. I asked at
Heritage Spinning & Weaving
what I would need "IF" I wanted to get started weaving. I was picturing something along the lines of what a kid might use in school but... before I knew it, Joan had me sold on this floor loom. I don't regret it. She gave me a great deal and so far I think I'm doing well. We started putting it together on Sunday afternoon (after finishing all the wooden parts) and I finished it on Monday. By the time I went to bed last night I had sleyed the reed. This morning I started treading the heddles and then tied it off.
This is a picture of my first project semi-close-up. It's orange and aqua in honor of my DH's love of all things
Miami Dolphin
!

I really have no way of knowing if I'm doing it right or wrong so feel free to leave feedback. I had two threads of warp twisted and was able to untie and resley them without difficulty.
This is a closer close-up that shows more detail. This is of course a very simple plain weave but I'm excited none the less.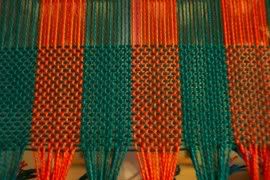 In case anyone is wondering, I have not taken any classes and I am teaching myself from the book
Learning to Weave
by Deborah Chandler. I also have the
Weaver's Companion
but haven't really needed it yet.

I have to admit, I think there is something soothing about woven material. It's kind of a balanced, ying/yang thing that I seem drawn to. The cool thing is that I can use some of my handspun for weaving.
So, in parting I must ask... am I crazy? Do I have a fiber addiction and do I need an intervention?