I've been spinning!!!!
I have been working hard trying to figure this whole spinning thing out. I am the type of person that can't let go of something until I have mastered it... I have a
long
way to go.
I am doing well at the actual spinning. Still need to work on spinning a smaller guage that is more consistent. I gave plying a shot over the weekend and at first I tried to ply right off of my Joy where my bobbins are stored. It really didn't work for me. I needed more tension to keep my singles from going crazy on me. In the end I improvised with a shoe box and a couple of US 10 needles. This was the result.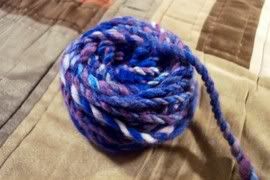 Not bad but quite bulky.
My DH picked up a Lazy Kate called Kate-A-Go-Go. It is very portable and that makes sense considering the portability of the Joy. I plyed two singles together last night with fairly good success. This is what I started with...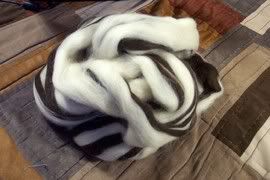 I ended up with this...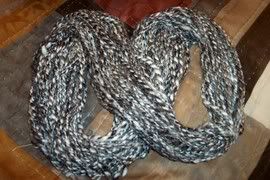 It's in the process of drying and is kind of hard to see. Hopefully when it is dry I will be able to take a better picture.
I guess at this point I am confused on how much roving I need to make a certain project. Is it better to get non-dyed rovings and color as much as you need for whatever you are doing? I will probably post these questions to one of my spinning groups but if anyone can help I would appreciate it. I seem to have more questions than answers when it comes to spinning. Oh well, that just means I have a lot left to learn, yeah!