The Baby Shower
Last Sunday I attended a Baby Shower for a friend from work. It was a very nice get together. As my regular readers may remember, this is the friend that I did the baby blanket and umbilical cord hat for.
This is Kris (uh, the very pregnant one)
& Kerry (a former coworker, also
pregnant, just not as much) at the party.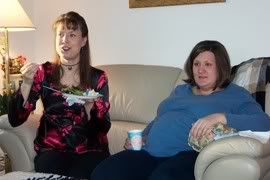 I am very happy for Kris and I hope that she & her DH have a healthy, happy, beautiful baby boy. Congrats Kris!