Threadbear
We made it home from
Threadbear
last night. It is usually an hour and 15 minute drive but coming home it turned into 2 hours. The roads were awful and we drove between 20 to 30mph for a good portion of the trip. Thankfully we made it, a lot of cars were in ditches.
I didn't really go to
Threadbear
for any specific purpose. I get emails talking about all the new stuff that they are getting and just wanted to check it out. I cannot believe how much they have grown just in the couple of months that we have been going there. It's unbelieveable. I did take a sampling of
Knitterella greeting cards
with me and it sounded like they will start carrying them. I have no vested interest in the cards, just friends with Knitterella, but I felt like they would be a good fit for the store.
I found some
Cascade 220 superwash
for a baby hat that I wanted to make and my DH picked up another ball of
Rowan Denim
for a sweater he is making. I got a pair of
Addi Turbo
circulars in size 7. I was happy with that and ready to go when...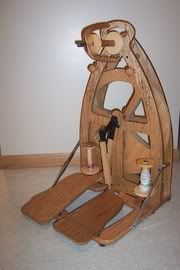 Out of nowhere I became the owner of a
Joy spinning wheel
. I have to say it was kind of a shock. It's really my DHs fault. He is such a bad influence on me.
I do love it (thanks for the recommendation
Tracy
) and I already spun some last night, now I just have to figure out how to ply it.