Buttonhole Bag nicely felted!
I'm quite happy with the results of this bag. It turned out great. I used the lighter blue on the bottom but I'm not sure why. You can't see it unless you purposely look at it from the bottom. I've bought some new yarn to do another one.
This is the bag standing up...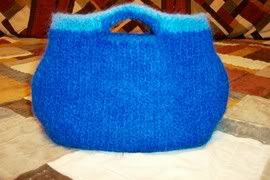 A view of the bag flat...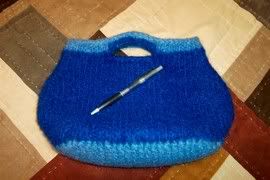 The pattern is from
Mason Dixon Knitting
with a few of my own modifications. If you are making this and you are careful during the drying process you can form it so that it will stand on it's own. You might already know that but just in case I wanted to share!