Are knitters obligated to have a cat???
I've always noticed the abundance of cat photos (dogs too) on knitting blogs and have somehow refrained from posting about our cat. I snapped this photo and thought it was just too cute not to share.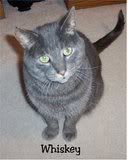 As you can see from the picture his name is Whiskey. He's been with our family for almost a year and a half. He came to us from a shelter and he's a great cat!