Knitting Projects...
I have been knitting. It's hard to find time lately but I know I'm much more relaxed when I knit then when I don't. I was suppose to have a class today but it was cancelled. Kind of a bummer but life goes on, right?
This is the stocking, not quite finished. I have to be in just the right mood to do the Kitchener stitch, ya know?
I used Reynolds Lopi and really enjoyed the project. I'm not usually one to add a lot of color so it was interesting for me. The pattern called for the "leg" to be knit flat and then begin knitting in the round just before the heel flap. I didn't see the point so I just did the whole thing on DPNs. You get the funny little jog at color changes but it's not really noticalbe. All in all I'm happy with it and considering doing some for Christmas gifts.
I've also been doing mittens. I am suppose to do a class and I thought I should get a little more experience. This is the pair that I did with two strands of mohair, 1 strand of a loopy type mohair and another novelty.
It's hard to see the different yarns from the picture but I do like how they turned out. These were knit flat and then sewn. The pattern says "one size fits all" but I think NOT! I had to add 4 extra rows durning decreases and probably could have done a couple more. I'm not crazy about the seam on the inside and at the thumb. May have to modify this for knitting in the round.
My last mitten is still without a partner. I did like this
pattern
but I'm trying to decide on the color. Can you say, "SANTA?"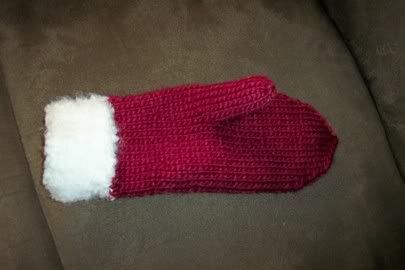 For this one I had to put the thumb stitches on waste yarn and then later pull it out and pick up the stitches. I'm sure that's the normal way to do it but I have not done it. Little scary. Easier than I thought. Hard to not have holes even with a couple of extra stitches picked up. In the end I used my beginning tail to do some cosmetic surgery and all was well.