MY (not so secret) Secret Pal is the best!
Ruby you are wonderful. I was sooooo excited and surprised to get my secret pal package in the mail. As I'm opening it I'm feeling more and more surprise. Everything in this package was unbelievable. It seemed as if there was no end in sight. I was blown away by the lovely yarn and I practically jumped for joy when I opened the adorable little knitted bag and found the stitch markers. It was all so amazing.
This is a picture of
everything that I received...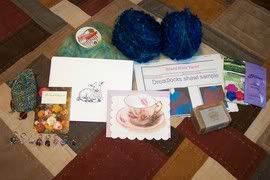 A closer view of the
knitted bag and stitch markers...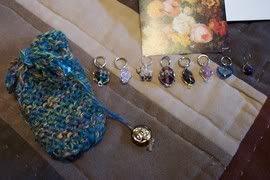 And finally, an even closer
view of the stitch markers!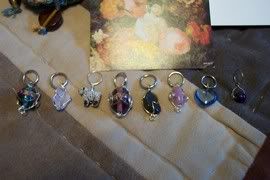 I think it's obvious why I was excited as I opened it. It was all so thoughtful. I have never knit with Mohair and I look forward to the experience. Everything was just so beautiful, I'm not sure how to express my gratitude and appreciation. Ruby you are the best! Thank you:)