Today's Weaving Progress
I've been working on my weaving sampler today and have learned how to weave in the twill pattern. I'm deciding what to try next... suggestions (and directions) are welcome. I broke a warp but was able to successfully fix it myself. I'm trying hard to relax my draw-in but it's hard for me to not make it tight. This is a picture of what I have done so far today.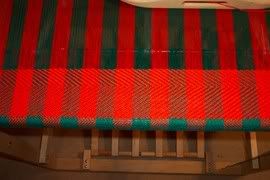 It's just so exciting to see the progress. I can't wait to take it off the loom and see it in all it's glory!