One sock down... no second sock syndrome for me!!?
I have finsihed one sock for Joshua and am working on sock #2. It is so hard to do socks, not from a knitting stand point but from a losing interest angle. My motivation is Joshua, patiently asking over and over and over again when his socks will be done.
I've gotten a few comment asking what yarn I used for the socks. I ordered this from
Mary Maxim
. It was on sale and I don't know if they carry it all the time or not but it is very nice with vibrant colors.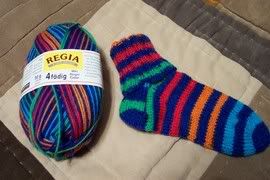 A closer view without cuff. I haven't tried it on Joshua yet and I'm hoping it will fit.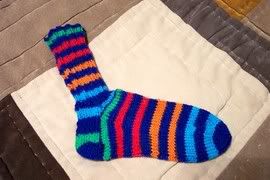 I received a lot of advice and I so appreciate it. You are all so wonderful!