In knitting knews...
I'm working really hard to find a balance between knitting, spinning & weaving. Add to that my lovely family, the house and work and it ain't so easy. I spent time last night knitting on a sweater that I started a while ago.
I'm using Berroco Softy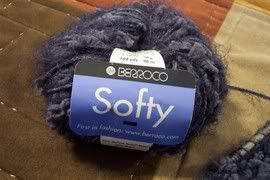 This is the my progress

A close up with questionalbe
color but fairly good detail.

The sweater is very simple. It is two rectangles knit in reverse stockinette, joined at the shoulders in a boat neck and then pick up stitches for the sleaves and knit from the shoulder to wrist. Very straight forward. The Softy is... well, super soft. Very nice stuff. Takes a little getting used to because of the slub things but wonderful none the less.