Beautiful weather...
Happy Wednesday to all! I am so amazed at the weather we've been having here in Michigan. It's currently 82 and sunny with a nice breeze. I'm not usually fond of the warmth but with a breeze plus shade I'm doing okay.
In honor of this wonderous day I bring you an assortment of photos! First up I have Joshua along with his dad (my DH). Since I posted Mitchell's first fish it's only fair that I post Joshua's too. Joshua only wanted a "wittle" fish and he was happy with this Catfish!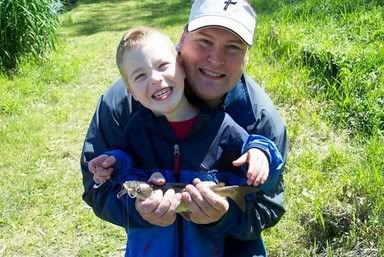 I, of course, feel obligated to post pictures of nature. These flowers are from my folks house and they are gorgeous this year!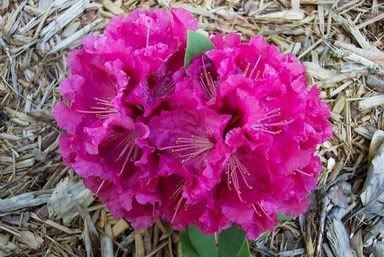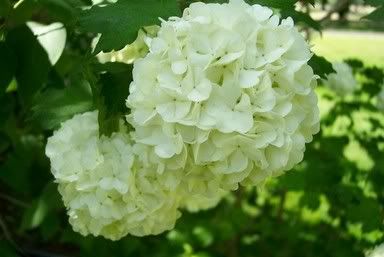 Knitting progress... still working on my Goody Bags for Teacher Appreciation Gifts. I have given out 5 and have 2 others finished with 1 more to go. I am debating doing one for the Speech Therapists at Joshua's school but I haven't decided. Time is running out.
This is one on the needles...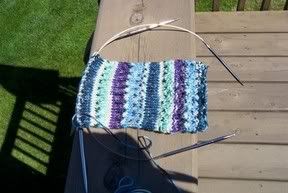 and soon after, same bag complete with a partner!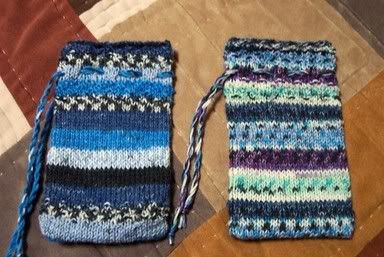 The last one I completed was done in Opal Sock Yarn and I loved it. The yarn was a gift from my secret pal and I loved the colors. I am working on putting the pattern into a .pdf and then making it available to all. I'll keep you posted on my progress!