A very special Random Act Of Kindness!
Yesterday's mail included a package from Laura at
Knits For Sanity
! I was caught completely by surprise. Inside I found a set of beautiful stitch markers. Each one had a word on it; Peace, Dream, Believe, and Hope.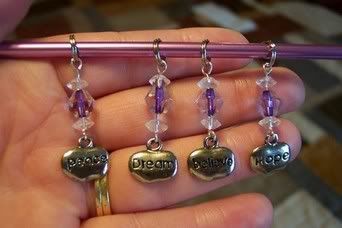 These are words/sentiments that I hold dear and feel like I've lost lately. It seemed like this RAOK was a sign to help put me back on track in a more positive way. Thank you so much to Laura, words cannot fully express my gratitude!